Oedo Vaudeville Show and Traditional Geisha Dances VI
Enjoy the exciting world of Japanese traditional entertainment !
Part 1 starts with Daikagura which is a Japanese traditional acrobatic show.
Originally performed to purify and protect shrine parishioners from evil spirits, today it fascinates us as a pure entertainment art with its amazing tricks.
Street scenes and life in the flourishing Edo period are recaptured in masterly performances of Rakugo and Kodan, which are both traditional storytelling art.
Part 2 features beautiful traditional dances performed by geisha dancers, and a performance by "Hokan" , a professional male entertainer.
The geisha dancers and musicians come from six of the entertainment districts in Tokyo, namely, Shinbashi, Akasaka, Asakusa, Kagurazaka, Yoshicho and Mukojima.
English earphone guides are available, and also English subtitles will help you understand the lyrics.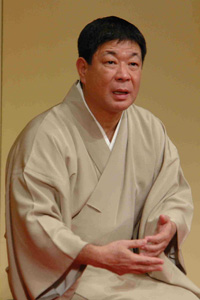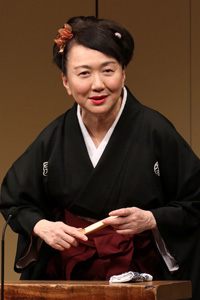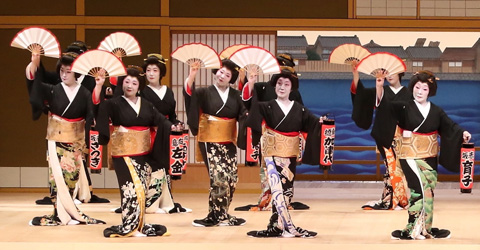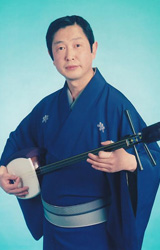 Date

Monday, September 19 (National Holiday), 2016

Time

Doors open at 14:30. Performance starts at 15:00.

Venue

National Theatre (Large Theatre)
4-1 Hayabusa-cho, Chiyoda-ku, Tokyo 102-8656
TEL.03-3265-7411

<Subway>
5 minutes walk from Hanzomon Station Exit 1(Hanzomon Line)
8 minutes walk from Nagatacho Station Exit 4 (Yurakucho / Hanzomon / Namboku Line)
<Parking>
Parking available (¥500 till the end of the performance)

Performers

Part 1 Oedo Vaudeville Show
Daikagura : Daikagura Kyokugei Association
Kodan : KANDA Yoko
Rakugo : YANAGIYA Sankyo

Part 2 Geisha Dance
Director : ONOE Kikushiro

Dancers
 Shinbashi : Katsuyo, Mieko, Hidechiyo, Kimijiro, Kohana
 Akasaka : Ikuko, Kahoru, Maki, Kanako, Mayu
 Asakusa : Sayoko, Kanae, Chizuru, Chifumi, Suzuryu
 Kagurazaka : Mari, Maiko, Momoko, Konatsu
 Yoshicho ; Hisamatsu, Yae, Hisakazu
 Mukojima : Sakon, Kanoko, Chiaki, Yuki, Kurumi
Musicians
 Shinbashi : Takako, Teruyo, Nanae, Yoshiha, Yume, Koyuki
 Akasaka : Momotaro, Komaki
 Asakusa : Shisa, Sayo
Hokan
 YUGENTEI Tamahachi
Kodan Guide
 KANDA Yoko
Daikagura
 Daikagura Kyokugei Association

*Program contents and performers are subject to change without notice.

Price

S ¥5,000 A ¥4,000 Student ¥2,000
*No entry for children under 6 years old

Ticket / All seats reserved

Advance tickets are all sold out.
However, same-day tickets are available at the National Theatre's Large Theatre reception on the day of the performance, the 19th September, from 2pm.
The same-day tickets will allow you to the 3rd floor seats and will cost ¥1,000 for adults, and ¥500 for students.
Student ID cards are required to buy student tickets.

Inquiry

"Oedo Vaudeville Show and Traditional Geisha Dances VI" administration office
03-6847-3707(weekdays 10am-6pm)

Accessi-
bility

What access and parking is available for visitors with disabilities?
You may purchase tickets for wheelchair and companion seat locations at the "Oedo Vaudeville Show and Traditional Geisha Dances VI "
administration office03-6847-3707(weekdays 10am-6pm)

Wheelchair Location Seats
By selecting a wheelchair location seat, your seat will always be removed to accommodate your wheelchair.

Companion Seats
In order to purchase a companion seat, a wheelchair seat must also be included in your order.

Accessibility
The wheelchair can enter from the main entrance. There is a wheelchair accessible gentlemen's and ladies' rest rooms on the ground floor.
The wheelchair accessible parking is located in front of the main entrance.

Visual Impairment
Please contact a receptionist for assistance.
Guide Dogs are always allowed in the National Theatre. Please ask the receptionist to show your way to the seat.

Earphone-Guide Service
English audio translation service called the 'Earphone-Guide' is available free of charge.

The "Earphone-Guide" provides essential translation of dialogue and lyrics, as well as explanations relating to the stories, music, dance, actors, properties and other aspects of the performance that may be difficult for non-Japanese visitors to understand. Comments are carefully timed to coincide with the action on stage.

You can rent the earphone at the reception desk located on the 1st floor of the National Theater.
For usage, please follow the instructions printed on the Earphone-Guide Instructions included in the kit.

In Part 1, you will hear the outline of the stories of Kodan and Rakugo.
Part 2 will introduce you to the various entertaining districts that the Geisha dancers
represent as well as giving explanations on the dance works.

English Subtitles
English subtitles are also available in Part 2.
It will provide you with English translation and background information on the lyrics of the traditional music accompanying the dances and will be displayed in the upper area of the stage.
So, we recommend the seats on the upper tiers for better viewing.

Organized by

Arts Council Tokyo (Tokyo Metropolitan Foundation for History and Culture)

Supported by and in cooperation with

Tokyo Metropolitan Government

Cooperated by

The Asahi Shimbun Company

Produced by

Votre Co., Ltd.
*All programs and performances are subject to change without notice.