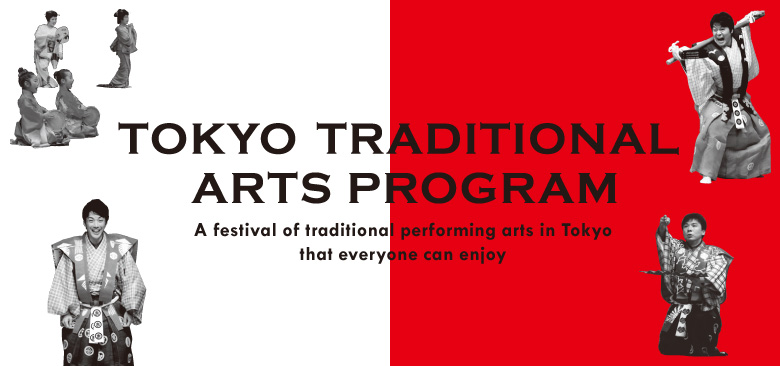 The Tokyo Traditional Arts Program is a project to promote the profound richness of Japanese traditional culture to the world and within Japan. This year, 11 programs will be introduced to fulfill this mission, and to pass on to the future generations our cultural inheritance along with the spirit of harmony which underlies Japanese traditions.
Traditional Performing Arts
We organize various performances such as Noh Play, Traditional Music, Dancing, Storytellers' show and other excellent Folk Performing Arts. They all will be performed by the greatest artists and also include short talks and acts, to show wider audience the fresh and brand new original style for our time.
2014.8.29


The World of Hachioji Kuruma Ningyo, a folklore puppetry

Enjoy the world of Kuruma Ningyo and you will discover this tradition not to be difficult but to be easy and approachable.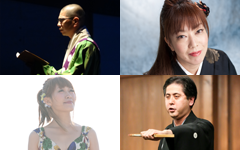 2014.9.7


"Traditional+"【vol.5】Voice Surfing Genealogy of Voice

Let's ride on the waves of Japanese vocal music, and travel across the ancient to present.
---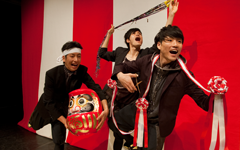 2014.9.27


Traditional Performing Arts × Street Dance Part 2

A fusion of street dance and Japanese traditional performing arts. It is a creation of new culture by the young generation.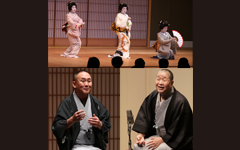 2014.10.5


Rakugo: Traditional Storytelling and Traditional Geisha Dances

Fun to listen. Beautiful to watch. Singing together doubles the pleasure
---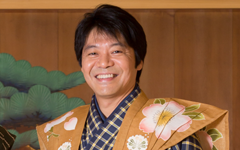 2014.10.7


Japanese Comedy - traditional and contemporary

"Kyogen is the ancestor of the skit." Modern laughter is linked over many centuries to classical laughter. The essence of laughter by the Japanese has not changed.
2014.10.13


Noh 〜rediscovering the tradition〜

Experience the basic elements of Noh by workshop, and the traditional stage of Noh will enable you to rediscover the power of tradition
---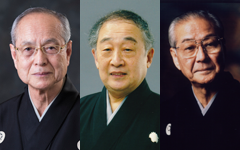 2014.10.28


Kyogen~Supremacy and Successors

The three Kyogen actors who are the living national treasure of Japan and the successors of their families in the same show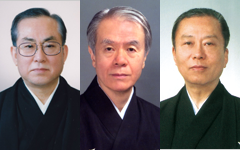 2014.11.1


The World of "Dojoji", a Tragic Love Legend
Traditional Japanese Music and Dance Performance - Living National Treasure collaborates with Young Successors -

Enjoy the profound enchantment of traditional art performed by living national treasure of Japan and promising young successors.
Traditional Performing Arts for Kids
Practicing traditional arts or keiko, involves more than simply mastering the skills. It is about nurturing Japanese traditional sensitivities through established discipline and styles.
Tokyo Grand Tea Ceremony 2014
We will hold large-scale tea ceremony events to introduce the art of Japanese tea and the Edo-Tokyo culture that brought it all together to people who have not experienced it yet or those who are from overseas.
*The program contents may change.