In the fifth year of "Tokyo Traditional Arts Program" we organize ten wide-ranged programs with workshops for beginners and performances combining tradition and contemporary to open Japanese traditional arts for wider audience.
Traditional Performing Arts
We organize various performances such as Noh Play, Traditional Music, Dancing, Storytellers' Show and other excellent Folk Performing Arts. They all will be performed by the greatest artists and also include short talks and acts, to show wider audience the fresh and brand new original style for our time.
2013.9.16


Rakugo, the Traditional Story-telling and the Traditional Dance by Geisha - Ozashiki Entertainment –

Fun to listen. Beautiful to watch.
Singing together doubles the pleasure.
---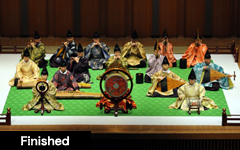 2013.10.5


Breath of sound

A joint performance featuring traditional wind-instruments such as Ryuteki, Nohkan, Shakuhachi and Shinobue in collaboration with contemporary dancers (Motoko Hirayama, Kaiji Moriyama)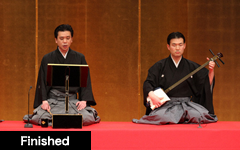 2013.11.1


An Introduction to Traditional Japanese Music - Scenes from Literary Classics -

Lecture and performance with selected pieces for "Classics Day"
---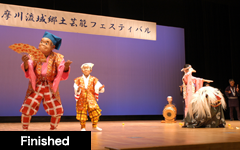 2013.12.1


Japanese Folk Performance "14th Tama River Basin Folk Performance Festival"

The Tama River comes alive with local folk arts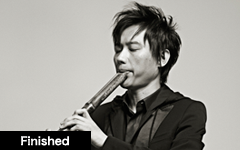 2013.12.8


"Tradtional+"【vol.4】
Traditional Instruments of Japan Today

Featuring the yesterday, today and tomorrow of Shakuhachi through Dozan Fujiwara (player)
with world premiere of commissioned work for the instrument by Kyo Ichinose (composer)
---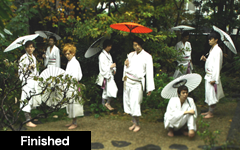 2013.12.14


Traditional Performing Arts × Street Dance

High school students perform street dance on traditional Japanese music / Hiromitsu Agatsuma (Shamisen player) collaborates with DAZZLE (performing group)
Traditional Performing Arts for Kids
Practicing traditional arts or keiko, involves more than simply mastering the skills. It is about nurturing traditional sensitivities through established discipline and styles.
Tokyo Grand Tea Ceremony 2013
We will hold a large-scale tea ceremony event to introduce the art of Japanese tea and the Edo/Tokyo culture that brought it all together to people who have not yet experienced it or those who are from overseas.
*The program contents may change.