Tendai Tantric Buddhism chant, "shomyo" deeply and richly resounds in the stage designed as a mandala (a place expressing the Buddhist state of enlightenment).
Although "shomyo" is chanted at Buddhist ceremonies, its rich musicality has had a strong impact on Japanese traditional performing arts. In particular, the "shomyo" chanted in "Toke Tokubutsu," which is a special rite of Tendai Tantric Buddhism, is complex and rich in variation. In this program, "Toke Tokubutsu" is presented as an art, on a stage designed as a mandala.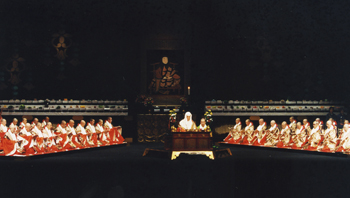 ---
Schedule
Saturday, September 25, 2010, Starting at 14:00 (Opening at 13:30)
Admission fees
Reserved seats only:
1st class seat: 4,500 yen for adults, 3,200 yen for students
2nd class seat: 3,600 yen for adults, 2,500 yen for students
* Discounts available for people with disabilities
Ticket sales
* For those who wish to reserve a wheelchair space, please contact the National Theatre Ticket Centre.
Cast
Tendaishu Sohonzan Hieizan Enryakuji Hogi Onritsu Kenkyusho (Tendai Sect Mt. Hiei Enryakuji Temple Rhythm Research Institute)
Details (program, etc.)
Denbo Kanjo-e
[Part 1] Shusuigi, Samayakai
[Part 2] Taizo Kaikan Jogi
Venue
National Theatre (Large Theatre)
Address : 4-1, Hayabusa-cho, Chiyoda-ku, Tokyo 102-8656
Access :

5 minutes walk from Exit 1 of Hanzomon Station (Hanzomon Line)
10 minutes walk from Exit 2 or 4 of Nagatacho Station (Yurakucho Line, Hanzomon Line, Nanboku Line)

* Car park available