RAKUGO SHOW SHIBAI-BANASHI with Stage setting
- Japanese Traditional Story-Telling -
This is a type of rakugo show called Shibai-banashi which accompanies music,
started by Encho Sanyutei at the end of the Edo Period (1603-1867).
Enjoy one of the many time-honored classic Shibai-banashi
shows which were first staged in Edo.

Encho Sanyutei was a rakugo comic storyteller active during the transition period from the Edo Period (1603-1867) to the Meiji Period (1868-1912), who opened up new horizons for traditional storytelling. When he became a star performer, he started a new type of rakugo show called Shibai-banashi using musical instruments, flashy garments and props to add the atmosphere of Kabuki, and this became a big hit. At this event, a winter story called "Kajika-zawa" will be performed to match the time of the year. Shojaku Hayashiya, who inherited performance and props from Shozo Hayashiya, performs a monodrama-like show about a somewhat chilling story of a woman and a man.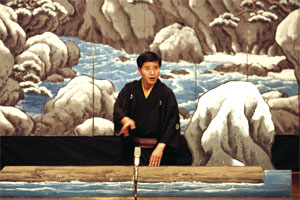 HAYASHIYA Shojaku
---
[Cast]

HAYASHIYA Shojaku, KATSURA Heiji, SAN'YUUTEI Utamusashi, YANAGIYA Gontaro
and others

| | | | |
| --- | --- | --- | --- |
| HAYASHIYA Shojaku | KATSURA Heiji | SAN'YUUTEI Utamusashi | YANAGIYA Gontaro |
---
[Date]

Sunday, October 11, 2009, Starting at 2:00 p.m. (Opening at 1:30 p.m.)
Starting at 6:00 p.m. (Opening at 5:30 p.m.)
---
[Venue]

The Hall at the Edo Tokyo Museum
Address : 1F, the Edo Tokyo Museum, 1-4-1 Yokoami, Sumida-ku, Tokyo, 130-0015
Telephone : 03 3626 9974


Access :

3 minutes walk from the west exit of Ryogoku Station (Somu Line)
minute walk from Exit A4 of Ryogoku Station (Oedo Line)



---
[Admission fees]

Reserved seats only: 3,500 yen for adults, 1,000 yen for students and children (from elementary school students to university students)
* No subtitle or explanation in other languages is available. A high Japanese language ability is needed to understand the show.
* Preschool children are prohibited from entry.
---
[Ticket Sales]

All the tickets have been sold out.
---
* Supervision: Tomomitsu Kyosu
* Production: The Asahi Shimbun Company
---