Traditional Japanese Music Concert "Autumn Concert under the Moon in Tokyo"
This concert is a collection of various types of traditional Japanese music
which have been passed down from Edo to Tokyo,
from the past to the present, that needs to be handed on to future generations.
The finest musicians of the present day will gather to present
a glorious Japanese music performance.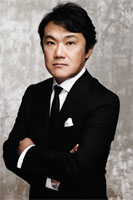 SENJU Akira
With the theme of the "moon" which has been and will be shining on the earth, leading musicians in the traditional Japanese music scene will together and present the essence of music born and nurtured in Edo/Tokyo.
Part I includes famous classical music from nagauta, kiyomoto, Yamada style koto music and hauta. Part II includes songs written by AKIMOTO Yasushi and composed by a master of nagauta IMAFUJI Chojuro. This will be followed by tunes composed by SENJU Akira, the most popular composer of today, as a collaborative performance between the orchestra conducted by Senju and musicians who play traditional Japanese musical instruments. All in all, the audience can enjoy the future of traditional Japanese music.
---
[Cast]

FUJIWARA Dozan

HAGIOKA Shoin, KIYOMOTO Yoshijudayu, KIYOMOTO Yoshijiro, HONJO Hidetaro,
KINEYA Rokuzo, IMAFUJI Chojuro, TOSHA Rosen, SENJU Akira,
the Tokyo City Philharmonic Orchestra, FUJIWARA Dozan
(in the order of appearance) and others
---
[Date]

Thursday, October 1, 2009, Starting at 2:00 p.m. (Opening at 1:30 p.m.)
---
[Venue]

The Main Hall at the Tokyo Metropolitan Art Space
Address : 1-8-1, Nishi-ikebukuro, Toshima-ku, Tokyo, 171-0021
Telephone : 03 5391 2111
Access : 2 minutes walk from the west exit of Ikebukuro Station (Exit 2b of Ikebukuro Station directly leads to the Tokyo Metropolitan Art Space)

---
[Admission fees]

Reserved seats only: 3,000 yen for adults, 1,000 yen for students and children (from elementary school students to university students)
* Preschool children are prohibited from entry.

---
[Ticket Sales]

All the tickets have been sold out.
---
[Free Seats Available for the 3rd Floor]
Application requirements:
from elementary school students to university students (elementary and junior high school students must be accompanied by adults)
The number of free seats:
600 seats (3rd floor seats, must be reserved in advance)
How to apply for seats:
You can apply for a maximum of 4 seats.
Please write the following information on a reply-paid postcard and send it to the address shown below: the date you wish to participate, the post code, the address, the full name, which year you are in at school, the telephone number and the number of people who wish to participate (including accompanying adults).
Please make sure to write your address and name on the reply postcard.
Deadline:
Application postcards must be postmarked by September 10, 2009.
Notification of the lottery results:
Participants will be decided through a lottery if the number of applications exceeds the quota. Invitations will be sent to the winners by post.
Address for applications:
"Autumn Concert under the Moon in Tokyo" Section
Notes for applications:
1. You are allowed to apply for seats only once.
2. The application will be invalidated if the information is incomplete or the application is sent on anything other than a reply-paid postcard.
3. The personal information submitted will be used for application purposes only.
*Transport costs, etc. will not be compensated if the event is cancelled.
*Invitations must not be bought or sold.
---
* Production: Koten Kukan Co., Ltd.
* Cooperation for production: Japan Arts Council (the National Theatre of Japan)
---